Abstract Submissions for the 2022 MedStar Health – Georgetown University Research and Education Symposium
All physicians, nurses, researchers, staff, residents, and fellows are invited to submit abstracts for the 2022 MedStar Health-Georgetown University Research and Education Symposium.
We are thrilled to host this year's event in person for the first time in three years. We look forward to bringing together investigators, educators, executive leaders, associates, and collaborative partners from across our academic health system to share their research and build meaningful relationships to further advance health for our community.
Abstracts are due at 11:59 p.m. on Monday, August 8.
Only selected abstracts will be presented as posters during the event. Poster selection will be determined by the Scientific Review Committee.
You can find more information at MedStarHealth.org/Symposium (new window). 
Please contact Research@medstar.net (new window) if you have questions.
Any Georgetown University researcher interested in participating in the MedStar Health – Georgetown University Research & Education Symposium is encouraged to provide a copy of their abstract to  techlicensing@georgetown.edu (new window)
Welcome
Continuity of Service
Our office remains committed to providing our standard level of excellent service. At this time, due to the fluid situation of the coronavirus pandemic, we will do so virtually, rather than in-person, during our regular business hours. To reach the Office of Technology Commercialization, please call 202.687.7424 or email techlicensing@georgetown.edu. Someone will respond to you promptly.
More information on COVID-19 related agreements can be found on the following link: https://otc.georgetown.edu/covid19-contracts/
Office of Technology Commercialization (OTC) manages Georgetown University invention disclosures, patenting and licensing activities, research collaboration agreements, material transfer agreements, confidentiality agreements, data use agreements, copyright and intellectual property agreements between the University and faculty, engagement of Georgetown University in the founding of startup companies, and assistance to University entrepreneurs in starting their own companies. If you believe that you have an invention, it is critical that you disclose the invention to OTC immediately, and prior to any publication or public presentation of the invention.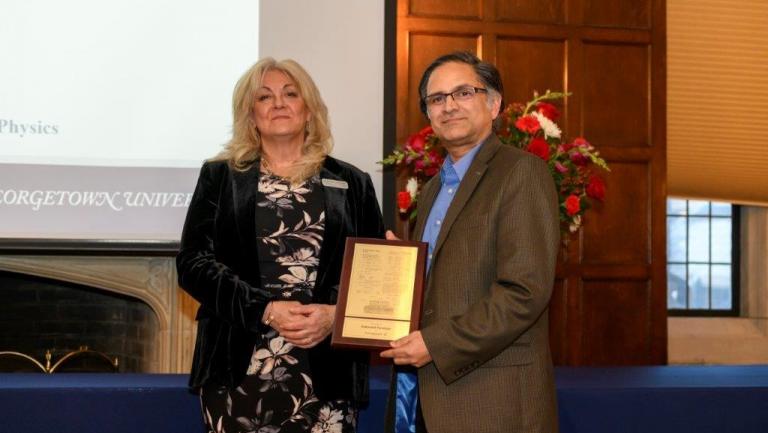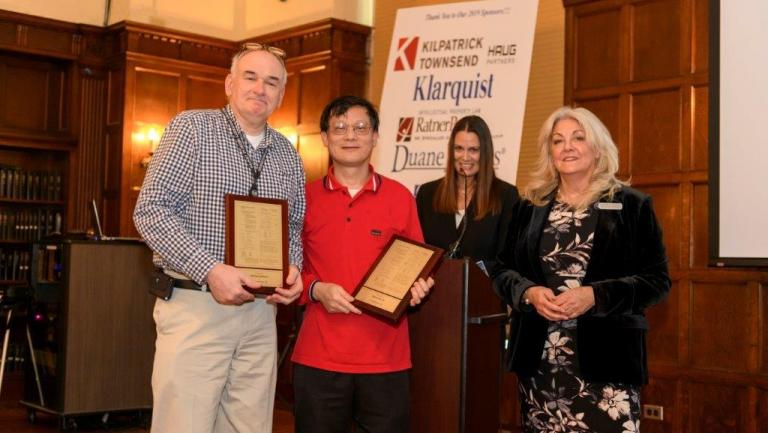 Upcoming I2Is and Events:
Friday, March 25th, 2022 11:00 PM – 12:30 PM – Virtual Zoom Event: LOI Gap Fund Workshop Part
Tuesday, March 15th, 2022 12:00 PM – 1:00 PM – Virtual Zoom Event: "Crossing the Chasm: The Trials and Tribulations of Marketing and Commercializing Cutting Edge Biomedical Technologies", presented by Dr. Yama A. Abassi, Vice President, ACEA Biosciences
Top Stories From OTC
On November 18, 2021, Georgetown University faculty and staff had the opportunity to learn more about Pfizer's CTI Funding Opportunities and Best Practices for Application Submission presented by: Barbara Sosnowski, Ph.D., Vice President and Global Head Emerging Science & Innovation Lead. Presentation slides can be found in the following link.
---
UAEM (Universities Allied for Essential Medicines) Presentation on Engaging University Leaders in the access to medicines movement is available here. For more information on UAEM's work please visit their website: https://www.uaem.org/
---
In our monthly I2I (Invention to Innovation) event, OTC had the pleasure of hosting George Likourezos, J.D. and Dr. Carmella L. Stephens, Ph.D., J.D. from Carter, Deluca, & Farrell LLP. Georgetown University faculty and staff had the opportunity to learn more about IP protection for AI-implemented Life Sciences inventions and how University Entrepreneurs can prepare for commercialization of their technologies.
---
"Speed dating" for Innovation: OTC hosted an event where researchers and entrepreneurs with ideas had the opportunity to network with investors looking for ideas, enabling them to meet a large number of potential partners in a short amount of time
---
Research and Engagement
Administrative Supplements to Promote Diversity in Research and Development Small Businesses – SBIR/STTR: Are you interested in supporting more diversity and inclusion in your biotechnology? The National Institute on Aging (NIA) Small Business Program is accepting applications for Diversity Supplements, which are administrative funds (up to $250,000 in direct costs) to enhance the research and entrepreneurial workforce's diversity by recruiting and supporting students, post-docs, and eligible investigators from underrepresented groups in health-related research into the Small Business Innovation Research (SBIR) and Small Business Technology Transfer (STTR) programs. For more information, please contact Armineh Ghazarian.
---
A Fast and Accurate COVID-19 Test: Georgetown University researchers have engineered a next generation pathogen detection system that has been shown to be extremely sensitive and specific and therefore to have extremely low false positive and false negative rates. It is as rapid or faster than other methods and can also be automated and used to test for multiple types of organisms simultaneously ("multiplexed"). We are kindly asking your support of this campaign that will allow researchers to use this groundbreaking technology to develop a high-fidelity rapid molecular test for detecting the COVID-19 virus. To support this campaign for a faster, more accurate COVID-19 test please visit the following link: https://www.givecampus.com. We appreciate your consideration of making a gift and sharing this important work with others who may also be interested in doing so.
---
Georgetown University (GU) continues to collaborate with George Washington University (GW) to help build the DC entrepreneurial community. We have been invited to join the "GWCAN" (More information can be found on the following link: https://giveandtakeinc.com/givitas-for-gwcan/). GW welcomes inventors, investors, new entrepreneurs and experienced entrepreneurs to explore the opportunities provided through the network. For more questions, contact the Office of Technology Commercialization, please call 202.687.7424 or email techlicensing@georgetown.edu.
---
Cures Within Reach has a new funding opportunity to support Diversity, Equity and Inclusion in biomedical research by providing at least 3 grants to US-based racial / ethnic minority PIs for their clinical repurposing trials. More info at https://bit.ly/cwrrfps.
---
Johnson & Johnson Innovation – JLABS @ Washington, DC is the newest Johnson & Johnson Innovation – JLABS life science and healthcare incubator. The state-of-the-art site will be open to entrepreneurs and innovators, and startups, focused on innovation across the healthcare spectrum, including pharmaceuticals, medical device, consumer and health tech. . Please review Johnson & Johnson Innovation's areas of interests prior to applying to ensure your technology is aligned to what they are looking for at this time: https://jnjinnovation.com/partnering
For more information on J&J Innovation please visit the following link.
---
Blue Knight | JLABS – Johnson & Johnson Innovation – JLABS is collaborating with the Biomedical Advanced Research and Development Authority (BARDA), a component of the Office of the Assistant Secretary for Preparedness and Response in the U.S. Department of Health and Human Services to form Blue Knight. This collaboration aims to stimulate innovation and incubation of technologies that improve health security and response through companies focused on public health threats and emerging infectious diseases. For more information on Blue Knight please visit the following link.
---
National Academy of Inventors (NAI) Announces Launch of Free Online IP Course. With this course you will be able to:
-Explain the basics of intellectual property policies.
-Understand how intellectual property protections benefit individual creators, business owners, and entrepreneurs.
-Describe the relationship between intellectual property protection and economic growth.
-Discuss the historical origins of intellectual property law in the United States
More information can be found on the following link: NAI IP Course
---
Acquisition Innovation Forum: Intellectual Property Valuation in the Defense Acquisition Process was hosted virtually on 9/9/2021. The aim of the workshop was to elucidate the issues and challenges facing the defense acquisition community in technology, data rights and software acquisitions, particularly with regard to valuation of intellectual property and impacts on innovation within the DoD. To download summary report please visit the following link.
Press Releases
Read our Recent Newsletter, the "OTC Review". Older editions archived here
What is Technology Commercialization/ Technology Transfer?
Watch the Association of University Technology Managers (AUTM)'s site and video featuring the ins and outs of Technology Transfer and learn more about what is involved in its process.