Lombardi Cancer Center Faculty Named Outstanding Faculty Entrepreneur in Medical Science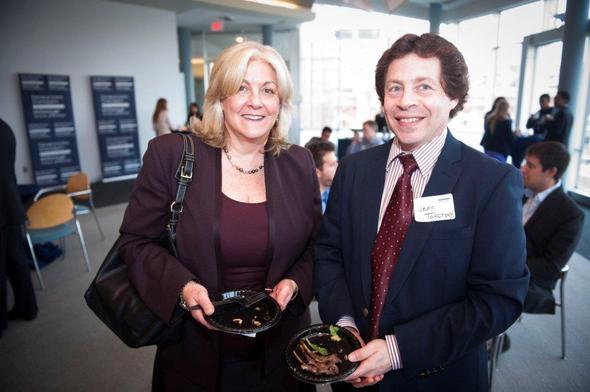 The Office of Technology Commercialization recognizes and congratulates Dr. Jeffrey A. Toretsky for being named "Outstanding Faculty Entrepreneur in Medical Science" at the McDonough School of Business (MSB)'s End-of-the-Year Entrepreneurship Celebration and Awards held on April 24, 2012.
An active partner with OTC in research and commercialization efforts, Dr. Toretsky was presented the award by Dr. Claudia Stewart, Vice President for Technology Commercialization. Read more and about the Georgetown Entrepreneurship Celebration here.
Dr. Jeffrey Toretsky received his MD in 1988 from the University of Minnesota. He completed his pediatric residency at the Medical College of Virginia in 1991, and his pediatric oncology fellowship at the National Cancer Institute Pediatric Branch in 1997. Dr. Toretsky joined the faculty in the Department of Pediatrics at the University of Maryland at Baltimore and served from 1997 until 2002. In 2002, Dr. Toretsky was recruited to Georgetown where he was granted tenure in 2005 and achieved the rank of professor in 2011. He was inducted into the American Society of Clinical Investigation in 2007 and received the Burroughs-Wellcome Clinical Scientist Award in Translational Research in 2008.
Dr. Toretsky actively pursues research that will lead to new and more specific therapies for a very rare cancer, Ewing sarcoma. His work focuses on Ewing sarcoma, since the tumors contain a unique target that is not found in non-tumor cells. This unique target offers an opportunity to create new medicines that will more specifically eliminate tumor growth while sparing normal cells. In 2009, Dr. Toretsky and his team revealed the molecule called YK-4-279 that targets Ewing sarcoma with an article in the prestigious journal Nature Medicine. YK-4-279 has the potential to be a potent new strategy in the fight against not only Ewing sarcoma, but also other cancers and diseases with similar characteristics. Given the small numbers of Ewing sarcoma patients, Big Pharma (and many not so big) was uninterested in pursuing clinical development of YK-4-279. Therefore, in 2010, Dr. Toretsky founded TDP Biotherapeutics, Inc. in order to facilitate the drug development. Dr. Toretsky continues to be the principal investigator of his NIH-funded laboratory group, leads the Molecular Oncology Program of the Lombardi Comprehensive Cancer Center, and maintains a clinical practice of pediatric oncology. His wife, three children, Basset Hound, and clarinet support him in these endeavors.