JLABS @ Washington, DC: A Convergence Engine for Entrepreneurship
The Office of Technology Commercialization

Presents
Invention 2 Innovation (I2I)
"JLABS @ Washington, DC: A Convergence Engine for Entrepreneurship"
The Johnson & Johnson JLABS model is built to engage in external innovation and provide a pathway to commercialization for early-stage companies engaged in biotechnology research and development. Faculty, staff, clinicians, and entrepreneurs will learn about the unique capabilities of JLABS and the various ways they can engage with JLABS within our vibrant biotech ecosystem.
Wednesday, 26 May 2021
11:00 am – 12:00 pm
RSVP for Virtual Location
Presented By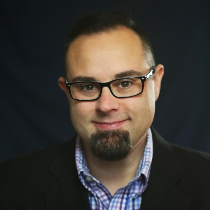 Michael Nestor, PhD
Scientific Engagement Lead
Johnson & Johnson Innovation-JLABS
As the Scientific Engagement Lead for Johnson & Johnson Innovation – JLABS @ Washington, DC. Michael Nestor is responsible for external engagement with regional academic research institutions, start-ups and investment partners and portfolio management. Michael received his PhD in Neuroscience from the University of Maryland, School of Medicine where he was trained as an electrophysiologist and completed postdoctoral fellowships at the National Institutes of Health and The New York Stem Cell Foundation, where he was also a Staff Scientist. Michael was also an AAAS Science & Technology Policy Fellow and a NIH IRACDA Fellow at Rutgers University where he focused on teaching in minority-serving institutions increasing the participation of traditionally underrepresented groups in science.
Please RSVP by Tue., May 25, 2021, to Jeremy S. Alexander at jsa28@georgetown.edu
https://www.eventbrite.com/e/jlabs-washington-dc-a-convergence-engine-for-entrepreneurship-tickets-156003188737
Interested faculty, staff, postdocs, clinicians, undergraduate and graduate students, and entrepreneurs should attend.
*Please feel free to bring your lunch to this virtual event*