OTC News & Events
News
Exciting Opportunity Alert: The Georgetown University Office of Technology Commercialization (OTC) Presents the Technology Commercialization Internship Program
Georgetown University's Office of Technology Commercialization (OTC) is delighted to introduce the Technology Commercialization Internship Program, commencing in Fall 2023. This internship offers an exceptional opportunity for students and post-docs keen on learning more about the world of intellectual property management and the commercialization of scientific research. Participants will gain experience working with Georgetown Innovators and Entrepreneurs alongside OTC staff and will learn about the technology evaluation and patenting process, market analysis, and the marketing and licensing of Georgetown's cutting-edge innovations.
PROGRAM HIGHLIGHTS:
Open to all graduate, master's, Ph.D. students, and Post-Doctoral Fellows and some extra capable and curious undergraduate students. Program participants will meet in person and virtually once a week for 2 hours with assignments to be completed remotely. Interns will gain comprehensive exposure to the realm of technology commercialization, including:
1. History and Purpose of Technology Commercialization
2. Patenting, Intellectual Property Management, and Prior Art Searching
3. Technology Evaluation
4. Market Analysis, Competitive Landscape Research, and Marketing
5. Start-up Creation and the Venture Creation Ecosystem
PROGRAM REQUIREMENTS:
To participate, candidates must:
Be currently enrolled in a Georgetown graduate program, including law, MBA, Masters, or Ph.D., or be a current Post-Doctoral Fellow. Undergraduate students will also be considered.
Possess a background in STEM, Law, or Business.
Dedicate a minimum of 8-10 hours/week.
Commit to a minimum of 8 months in the program.
Have the ability to work remotely and attend on-campus meetings and events as required.
TO APPLY:
To embark on this enriching journey, submit the following documents to Monita Tarazi (ma2254@georgetown.edu) and cc Zeinab Abouissa (zaa9@georgetown.edu) by September 25th:
📣 A Statement of Your Passion – Tell Us Why You're the Chosen One!
📜 Your Resume – A Glimpse of Your Journey So Far!
IMPORTANT:
Selected interns will be required to sign a confidentiality agreement with the University.
This is an unpaid position designed for knowledge enrichment and experience
A certificate will be awarded upon program completion, and recommendations are available upon request.
Selected interns must provide written and signed permission from their research or faculty advisor, as applicable.
Elevate your career prospects and become a part of the innovation revolution. Seize this unique opportunity to explore the world of technology commercialization at one of the nation's leading institutions. Your future starts here!
| | |
| --- | --- |
| Internship Program Timeline   | Date  |
| Opening of applications  | September 13, 2023  |
| Application due by  | September 25, 2023  |
| Notification to those selected   | October 3, 2023  |
| Start of the Internship Program  | October 12, 2023  |
---
Georgetown University ranks among the Top 100 U.S. Universities Granted Utility Patents in 2022!
Georgetown University, a Carnegie-classified R1 institution, ranks among the Top 100 U.S. Universities Granted Utility Patents in 2022, a list published by the National Academy of Inventors (NAI). This list highlights and celebrates American innovation and showcases universities that play a large role in advancing the innovation ecosystem both in the United States and beyond. Georgetown ranked #67 among thousands of colleges and universities in 2022. [https://academyofinventors.org/top-100-us-universities/]
Tatiana Litvin-Vechnyak, Ph.D. leads Georgetown's Office of Technology Commercialization, which manages Georgetown's patent, licensing, and spinout creation activities. "Georgetown University has a long-standing history of groundbreaking research and impactful discoveries that have included allergy medication, the HPV vaccine technology, and a whole body CT scanner, among several others. With significant expertise in Health and Life Sciences, specifically neuroscience and oncology, our research prowess exceeds expectations," Litvin-Vechnyak says. The rankings further demonstrate Georgetown's deep commitment to discovery and academic excellence, a critical part of its Jesuit values.
"As a U.S.-based national academy, it is important to us not only to showcase innovation happening on the broader world stage but here at home as well. Invention has been part of the American experience since the country's inception, with intellectual property being protected in the Constitution," said Jamie Renee, executive director of NAI. "Innovation has always been at the heart of U.S. culture, and the Top 100 U.S. Universities list allows us to recognize and celebrate the commitment these universities have to the American tradition of invention and protection of IP."

Since 2013, NAI has published the Top 100 Worldwide Universities list. The Top 100 U.S. Universities list is the newest ranking published by NAI and helps show a more focused view of the national innovation landscape and the contributions made by U.S. academic institutions.

NAI's Top 100 lists are created using calendar year data provided by the United States Patent and Trademark Office. Top 100 placement includes all named assignees listed on the patent. See the full Top 100 U.S. Universities List here.
*****
Stay tuned for more groundbreaking developments from the Georgetown Office of Technology Commercialization! We are committed to driving progress in innovation and research translation in the academic world. For inquiries, partnerships, and collaborations, please contact our Office of Technology Commercialization: techlicensing@georgetown.edu
---
Georgetown University faculty inducted into the National Academy of Inventors
Dr. Jill Smith and Dr. Kai Liu are recognized for their contributions to innovation, and Dr. Tatiana Litvin-Vechnyak becomes an honorary member of the National Academy of Inventors ("NAI").
Continue reading >>
---
Events
Each year the Office of Technology Commercialization hosts events featuring educational and promotional opportunities for the Georgetown University community and the Washington, D.C. area in the field of technology transfer and intellectual property. Please read further for more information about upcoming events and read about past events we have hosted in the past. A special thank you to those who have attended our past events!
Invention to Innovation (I2I) Seminar Series
Invention to Innovation (I2I) Seminars are designed for the University community to learn about aspects of intellectual property and the commercialization process. If you have invented, or are interested in inventing a particular technology and want to learn about issues in the field and engage with specialists and practitioners, I2I seminars are your opportunity. It also provides a great networking platform to engage other researchers inside and outside Georgetown, as well as the staff of the OTC.
Past I2Is
Friday, March 31st, 2023 10:00 AM – 11:00 AM ET – Virtual Zoom Event: Georgetown University GAP Fund Letters of Intent (LOI) Workshop, moderated by Tatiana Litvin-Vechnyak, PhD, Vice President, Office of Technology Commercialization.
Tuesday, November 15th, 2022 12:00 PM – 1:00 PM – Virtual Zoom Event: "The 7 Secret Keys to Startup Success & How to Avoid Business Failure!", presented by David Muchow, J.D., Adjunct Professor, School of Foreign Services, Georgetown University, and a serial entrepreneur.
Thursday, October 6th, 2022 10:00 AM – 11:00 AM – Hybrid Event: "Is Software Patentable?", presented by Jonathan King, J.D., Patent Prosecution Attorney, Blank Rome LLP.
Wednesday, September 14th, 2022 12:00 PM – 1:00 PM – Virtual Zoom Event: Accessing your resource to launch your start-up
Friday, March 25th, 2022 11:00 AM – 12:30 PM – Virtual Zoom Event: Gap Fund LOI Workshop
Tuesday, March 15th, 2022 12:00 PM – 1:00 PM – Virtual Zoom Event: "Crossing the Chasm: The Trials and Tribulations of Marketing and Commercializing Cutting Edge Biomedical Technologies", presented by Dr. Yama A. Abassi, Vice President, ACEA Biosciences
Tuesday, February 22nd, 2022 11:00 am – 12:30 pm, and Thursday, March 3rd, 2022 11:00 am – 1:00 pm – Virtual Zoom Event: "SBIR/STTR Workshop Series": presented by experts from NCI's (National Cancer Institute) SBIR Development Center: Sarra Djemil, Ph.D., Deepa Narayanan, and Reema Railkar, Ph.D.
Thursday, November 18, 2021 11:00 am – 12:00 pm – Virtual Zoom Event: "Partnering with Pfizer's CTI: Funding Opportunities and Best Practices for Application Submission" presented by: Barbara Sosnowski, Ph.D., Vice President and Global Head Emerging Science & Innovation Lead
Presentation slides can be found in the following link.
Wednesday, May 26, 2021 11:00 am – 12:00 pm – Virtual Zoom Event: "JLABS @ Washington, DC: A Convergence Engine for Entrepreneurship"presented by: Michael Nestor, PhD Scientific Engagement Lead Johnson & Johnson Innovation-JLABS
Tuesday, July 27, 2021 12:00 am – 1:00 pm – Virtual Zoom Event: "Entrepreneur Education and Business Networking Program for Bioscientists, Clinicians and Bioengineers" presented by: Mary Howard, Executive Director at Design Technologies LLC
Wednesday, September 30, 2020 12:00 pm – 1:30 pm – Virtual Zoom Event: "The Importance of Data in Patent Applications – From Filing Complete Provisional Applications to Addressing Rejections at the USPTO" presented by: Neil P. Shull, Ph.D. (Medler Ferro, Woodhouse & Mills)
Wednesday, July 22, 2020 12:00 pm – 1:30 pm – Virtual Zoom Event: Engaging University Leaders In The Access To Medicines Movement – Sapna Ramappa and Devika Shenoy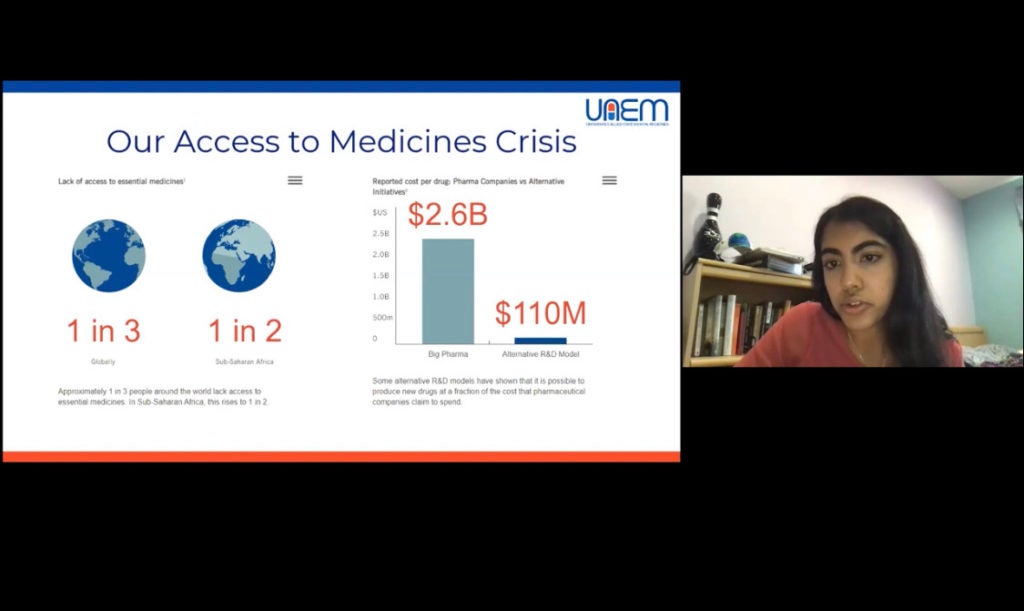 UAEM (Universities Allied for Essential Medicines) Presentation on Engaging University Leaders in the access to medicines movement is available here. For more information on UAEM's work please visit their website: https://www.uaem.org/
Wed., April 17, 12-1:30pm, Building D, Warwick Evans Conference Room (new location):
PATENTS: FROM INVENTION TO COMMERCIALIZATION IN THE BIOMEDICAL SPACE -Dr. Ling Zhong, Ph.D., Shareholder & Mr. James M. Gould, Counsel, Ratner Prestia
Wed., Nov. 7th, 12-1:30pm, Building D, Warwick Evans Conference Room (new location):
Inventions: When Does Patent Protection Make Sense, and How Does Open Source Fit In?
Mr. Gregory J. Kirsch, Patent Attorney, Partner, Head of IP for Smith, Gambrell & Russell, LLP.
Wed., Oct. 17th, 12-1:30pm, Leavey Program room 1606 in the Leavey Centre:
Critical Success Factors for a Biotechnology
Dr. Brian A. Pollok, Ph.D., Co-Founder and CEO of Propagenix Inc.Wed., Mar. 21st, 12-1:30pm at Leavey Program Room:
Collaborating and Consulting: IP Issues to Consider
Todd Buck, Ph.D., Esq., of Haug Partners LLP
Mon., Feb. 5th, 12-1:30pm at Leavey Program Room:
"Adventures in Entrepreneurship: The Case of Embody"
Jeff Conroy (CEO, Embody)
2021 Patent Awards Ceremony
To read more about the 2021 Patent Awards Ceremony, please visit the following link.
2019 Patent Awards Ceremony
To read more about the 2019 Patent Awards Ceremony, please visit the following link.
Other Previous OTC Events
Previous OTC events have included National Academy of Inventors ceremonies, Research Commercialization Introductory Courses, Georgetown Bio-Initiatives, Hoya Entrepreneurship Challenge, the Transatlantic Science Week, and the Start-Up and Commercialization Boot Camp. We aim to provide the University community with rewarding and insightful events to foster greater knowledge of intellectual property and technology transfer.